How Much Does a Funeral Cost?
What does the average funeral cost? See a breakdown of average funeral costs and services, including cremation, burial, embalming, and more, plus FAQs.
The average funeral costs between $7,000 and $12,000. The viewing, burial, service fees, transport, casket, embalming, and other prep are included in this price. The average cost of a funeral with cremation is $6,000 to $7,000. These costs do not include a cemetery, monument, marker, or other things like flowers.
The average funeral cost has been rising steadily since the 1980's. Today, it's not uncommon for the average funeral to cost up to $9,000 or more depending on whether the body is buried or cremated. Caskets and urns can cost thousands of dollars alone depending on the style and material used.
Pre-planning for events you know will occur can help take some of the pain out of those expenses for yourself and your family – including funeral expenses.
If you've ever helped arrange a funeral, you know even the most basic funeral expenses can be difficult to afford. If you went into the process with a budget in mind, the add-ons alone can send the cost of a funeral spiraling out of control.
One of the best ways to control these costs is to plan ahead by knowing the average funeral cost and what each of the items and services runs. Once you know, you can decide which items are must-haves, what would be nice to have, and what you can do without.
This article will help you discover the actual average funeral cost and how price shopping can help you keep funeral expenses under control.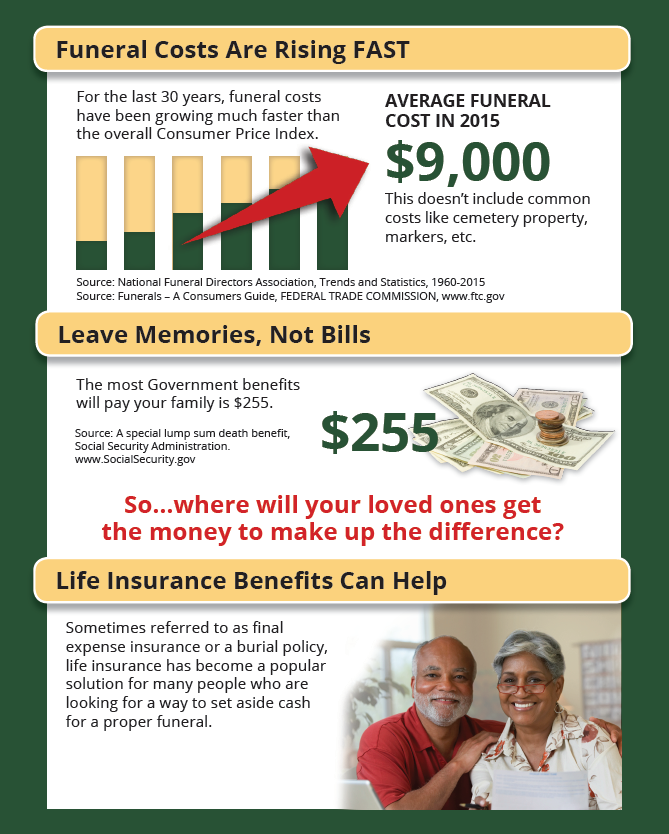 Price Shopping & Saving Money on Average Funeral Costs
Families often emotionally overspend by hundreds – even thousands – of dollars when purchasing funeral arrangements. Overspending is common for several reasons:
The emotional impact of losing someone can cloud judgment.
There are often pressing time constraints.
Many on-the-spot decisions must be made.
Most families have no prior experience in funeral planning.
Some funeral homes and cemeteries may take advantage of the situation and put profit ahead of saving the family money.
Funerals today can easily exceed $10,000.
Let's say you need a new car. Do you pull in to the first lot you see, buy the first car you test-drive, and accept the sticker price without question?
Of course not. When we shop for cars, we talk to salespeople (and our friends and family), drive different vehicles, consult consumer magazines, and negotiate the price. If a specific make or model has a bad reputation or is priced too high, we walk away and look for a different car. We want a good car at the right price, and we're willing to do some homework to get it.
We do the same kind of comparison shopping for smaller purchases – computers, for instance, or large appliances like washers and dryers. We know doing a little research will get us the features we want for the price we're willing to pay.
So, why is it we don't price shop funeral costs? The average funeral cost with a burial or cremation is just as expensive – sometimes more expensive – than other big purchases we make in life. Yet every year, thousands of families pay the "sticker price" when they bury their loved ones.
Fortunately, there are ways to save. One of the main ways families can save on funeral expenses is by shopping for the funeral services and items they want. Most consumers don't think about shopping around for funeral expenses, but it's important to understand all of your options before purchasing anything or selecting a funeral home.
Here are some tips to save money:
Contact several funeral homes in your area to get a range of prices for the services you're considering. Funeral homes are required to give you general pricing information upon your request.
Some funeral items, such as caskets or liners, can be purchased outside the funeral home. By price shopping and providing certain items from a third party, families can often save thousands of dollars without sacrificing any final arrangements.
Another way to save on funeral costs is the embalming process. The Federal Trade Commission says there are no states that require routine embalming for every death, but there are regulations related to preserving remains prior to burial or cremation, which is more about the length of time between death and disposal to prevent the breakdown of the body.
If you choose direct burial or cremation, you may be able to eliminate embalming altogether.
Even if you engage a funeral home for burial, you don't have to take advantage of their visitation and memorial services, unless this is something that is important to the family or deceased.
Also, memorials can be held at a private home or a place that held special meaning for the deceased which can create a meaningful service at a much lower price than the average funeral cost.
If you are certain you want a burial rather than a cremation, typical expenses include:
Burial plot cost and gravesite expense
Casket price
Vault or coffin container
Basic service fee
Transportation fee(s), including hearse or van use
Cost of opening the ground, placing the remains in the ground, and burial
Price shopping funeral items and services can uncover savings and allow you to still have a beautiful and memorable funeral. Call around to local funeral homes for a price list and decide who your best provider will be. Planning ahead allows you to start a funeral checklist so you can be prepared when the time is right.
Know Your Funeral Rights Before You Begin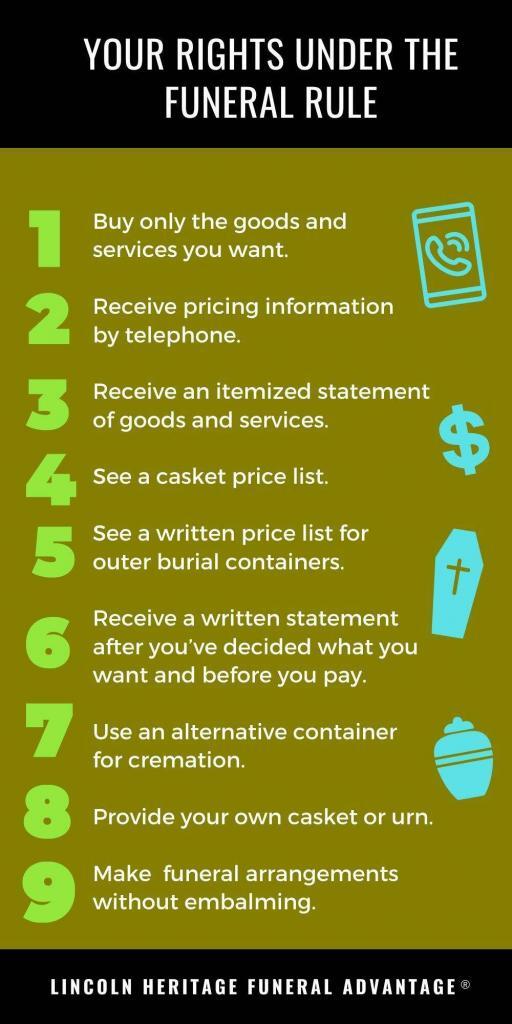 As we age, it's perfectly natural to begin thinking about final arrangements. One important part of making final arrangements is making sure you understand – and have made preparations for – your funeral costs.
Before you begin, it's important to know you have specific rights when it comes to funerals. The Federal Trade Commission (FTC) first introduced the "Funeral Rule" in 1984 to prevent funeral homes from pressuring people into buying goods and services they didn't need or want. It was also intended to help protect consumers from being overcharged for the items they did want.
The Funeral Rule gives you the right to:
Buy only goods and services you want.
Be offered pricing information by phone.
Be provided with an itemized statement of all goods and services.
See a list of casket prices.
Be offered a price list for outer burial containers.
Be provided with a written statement prior to making any payments.
Select an alternative container for cremation.
Provide your own casket or urn.
Decline embalming prior to a funeral.
How Much Does the Average Funeral Cost With Cremation?
The National Funeral Directors Association estimates the average funeral cost with cremation at about $7,000. Cremation services can range from $1,000 – $3,000 on the low end of the spectrum but can cost as much as $6,000 – $8,000 depending on what options you select.
According to the 2020 NFDA Cremation & Burial Report, the 2020 cremation rate is projected to be 56% and is projected to reach over 63% by 2025. As more consumers choose cremation, prices will continue to increase.
How Much Does the Average Funeral Cost with Burial Cost?
The National Funeral Directors Association estimates the median cost of a funeral and burial at about $9,420. This price does not include a burial plot or things like flowers or transportation. Depending on the funeral home and funeral items chosen, the cost could be substantially higher. That's why price shopping is so important.
It's understandable that people grieving a recent death would struggle to do a comprehensive search for funeral homes and various costs. "In many cases, people just haven't thought about a funeral," said Cheryl Reed, a spokeswoman for the review site Angie's List, in a CNBC article on funeral pricing. "So, they're dealing with their grief at the same time they're dealing with these decisions. It's hard to be a great shopper."
With proper planning, you can actually reduce some of the stress and financial responsibilities on your family members when you die. An increasing number of people are making plans in advance to cover their funeral costs, not only to ease the burden on those left behind but also to ensure their final wishes will be taken care of.
Average Funeral Cost Breakdown
The National Funeral Directors Association (NFDA) conducted a survey to calculate the median cost of a funeral. In 2021, the median cost was $7,848 without a vault; including the vault increased the cost to $9,420. This does not include the burial plot, headstone, flowers or an obituary.
Here is the funeral cost checklist included in the median funeral expenses in 2021, according to the NFDA:
| Item | Cost |
| --- | --- |
| Funeral home's basic service fee (nondeclinable) | $2,300 |
| Transporting remains to funeral home | $350 |
| Embalming | $775 |
| Preparing the body in other ways, such as makeup and hair styling | $275 |
| Facilities and staff to manage a viewing | $450 |
| Facilities and staff to manage a funeral ceremony | $515 |
| Hearse | $350 |
| Service Car | $150 |
| Basic memorial printed package | $183 |
| Metal casket | $2,500 |
| Median cost of funeral with viewing and burial | $7,848 |
| Vault | $1,572 |
| Cost with Vault | $9,420 |
Many cemeteries require a burial vault or concrete grave box to ensure the ground will not buckle over the casket. A vault is reinforced to preserve the remains from groundwater and insect activity. When calculating funeral costs, you may have to include the cost of a vault or grave box.
Funeral Home
Most funeral homes will charge a "basic services fee" which includes services that are common to all funerals, regardless of the specific arrangement. Most non-declinable service fees average around $2,000 - $2,500.
This basic services fee may include obtaining copies of the death certificate, securing any permits needed, sheltering the remains, and coordinating the arrangements. The fee will not include any optional services or products such as caskets.
When choosing which funeral home to use, it's important to understand all of your options. Contacting several funeral homes will provide you with a range of prices for the services available in your area. Funeral homes are required to give you general pricing information over the phone for any services you are interested in.
Cremation vs Burial
The average cost of a cremation ranges from $1,000 - $8,000 depending on the state and services chosen. A cremation can cost almost as much as a funeral because of the various fees paid to the funeral home.
The average cost of a burial can cost up to $9,000 or more and really depends on the smaller items chosen (such as flowers, transportation, headstone, etc.). While caskets can cost several thousand dollars, burial items like headstones and grave liners can also add thousands of dollars depending on the material used. Learn more about the cost of cremation vs burial and choosing what's right for you.
Embalming
Embalming averages around $500-$700 and usually doesn't cost more than $1,000. Embalming isn't always required and depends on whether or not the body is buried or cremated and how quickly the service takes place after the deceased's passing. Refrigeration is often an alternative to embalming, but even refrigeration can cost several hundred dollars.
Flowers
If you decide to have flowers, setting aside $500-$700 should be enough to give you an elegant display. Flowers are often an easy way for families to save on funeral costs. Some families accept flowers from guests as a way to pay respects to the deceased. Many funeral homes have local florists that can offer flower packages as part of the funeral bill. Check with several florists in the area to see what discounts are available.
Wreaths
Wreaths are usually displayed around the casket and typically cost about $100-$200 each. Casket wreaths are displayed across the casket itself and vary in cost and size. A decent sized casket wreath will probably cost between $500-$700 depending on the florist, flowers used, and size of the display.
Funeral Plot
Many people don't realize that cemeteries are often separate from funeral homes and carry their own costs. The average burial plot will be between $350-$5,000, but metropolitan areas, such as areas of Los Angeles and Chicago, may cost more.
On top of the grave space, there is often a fee to open and close the grave which can cost around $1,000 in a public cemetery or as much as $3,000 in a private one.
If you or a loved one is a veteran, check with the Department of Veterans Affairs (VA) regarding burial allowances. The VA reimburses the burial costs of any living spouse, child or parent of an honorably discharged veteran, including costs related to transporting the remains. The cost of a burial plot in a VA-certified cemetery may be much less than a traditional burial plot. Families are usually required to cover additional funeral costs, like flowers, obituary notices, and family transportation.
In addition to the plot, there are costs associated with opening the ground, placing the casket, and covering the plot. These services usually add several hundred dollars or more, depending on the cemetery.
When purchasing the gravesite, ask how the cemetery will maintain the gravesite. The maintenance fee may be included in the overall funeral expenses, or it could be a monthly or annual service fee.
Headstone or Grave Marker
Upright headstones usually stand on top of the grave and cost around $2,000-$5,000 depending on the design. Grave markers typically lie flat on the ground and cost around $1,000. Each cost depends on the type of material used, with stone and bronze material being the cheapest. The type of headstone or grave marker you buy may depend on the section of the cemetery in which the body is buried. Most funeral homes and cemeteries can sell you a headstone or grave marker, but you can also buy them from third party retailers, potentially saving hundreds of dollars.
Casket
A casket is often the most expensive item that factors into the average funeral cost. Caskets vary widely in style, material, design, and price. An average casket costs between $2,000-$5,000 and is typically either metal or a cheaper wood, but some caskets can sell for as much as $10,000 or more.
It's important to remember you're not obligated to buy any funeral items directly from the funeral home. Buying outside of a funeral home can help you save thousands of dollars. More and more, people are buying caskets from third-party retailers like Amazon and Walmart and having them shipped directly to the funeral home. By law, funeral homes are required to use the casket you provide and can't charge any additional fees to handle third-party caskets.
Funeral Insurance Costs
Most people underestimate just how costly a funeral or cremation service can be. Average funeral expenses can cost about $9,400 according to the NFDA. Even cremation services can cost thousands of dollars depending on the service performed (see How Does Cremation Work).
Unfortunately, the federal government only pays about $255 towards these costs in the form of a lump-sum payment – and that is only for individuals who qualify.
Saving for funeral costs can be difficult, but final expense life insurance can help. If you're concerned about your family experiencing a financial burden when you pass, consider getting a funeral insurance policy. Also called burial insurance this type of policy is specifically designed to help with funeral costs and other end-of-life expenses.
Even a modest policy can help cover necessary burial costs. Learn more about final expense insurance.
Does Life Insurance Cover Funeral Costs?
Any life insurance policy can be used to help cover funeral costs (if you're wondering, "What is whole life insurance?" we have a guide that answers all of your questions.). Life insurance is one of the most efficient and trusted ways to cover the cost of final expenses. In particular, final expense insurance is specifically designed to help cover any end-of-life expenses such as medical bills or burial costs.
Commonly referred to as burial insurance or funeral insurance, final expense insurance is especially popular with seniors because of its focus on protecting surviving loved ones from experiencing a financial burden when they pass (learn more about what to do when a loved one dies).
When it comes to final expense insurance, there's no one-size-fits-all policy. Each family is unique and has different concerns for their loved ones. As the leader in final expense life insurance, no one understands this more than Lincoln Heritage Life Insurance Company®. For over 55 years, we've helped protect policyholder families from paying high prices as average funeral costs and other expenses have continued to rise.
Funeral Advantage gives families the cash insurance benefit they need within 24 hours of claim approval and assists with price shopping funeral costs. Funeral Advantage is designed to protect your loved ones from emotional overspending by helping them understand the pricing options available to them. We helped save policyholder families thousands of dollars last year alone.
Pre-Paying Funeral Costs
More and more people are making the choice to cover their own funeral expenses – both to make sure their final wishes are carried out and to save their loved ones from having to take care of the arrangements and the cost upon their death.
One smart way to set aside money for funeral and burial expenses is a final expense insurance policy, sometimes referred to as burial insurance or funeral insurance. The purpose of these policies is to pay a death benefit – often between $10,000 and $25,000 – for the specific purpose of covering the costs associated with end of life expenses. These typically include funeral expenses, but may be used for anything the family needs – travel costs for family members, unpaid bills, or medical expenses.
Most final expense insurance companies will give you a free final expense life insurance quote to help you determine what insurance options are available to you. Because these policies offer smaller death benefits, final expense insurance usually doesn't require a medical exam or physical. Coverage can often be issued based on answers to health questions on the application. Burial insurance for seniors is a great fit because of its affordability and easy application process.
Average Funeral Cost by State
The National Funeral Directors Association priced funeral and cremation costs by region in their 2017 General Price List Study. In 2017, the cost of a funeral with burial was highest in the north central region of the country, such as Minnesota, Michigan, Wisconsin, Ohio, Nebraska, and Kansas. The cost of cremation services was highest in the north east region of the country, such as Maine, Massachusetts, Vermont, and New Hampshire.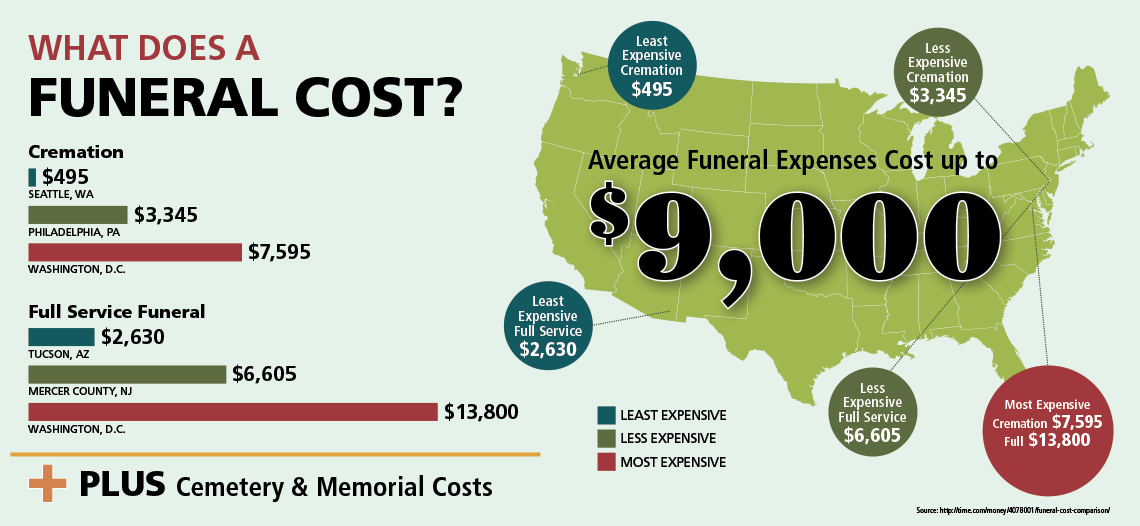 (Chart reproduced using funeral and cremation prices from Consumer Federation of America)
Below is a sample list of costs for items and services used in most final arrangements. The costs below do not reflect the price of any particular funeral home.
Swipe left on table to view more
| State | Professional Services | Embalming | Cremation | Opening/Closing | Hearse | Refrigeration* | Vault | Prep** | Transfer | Flowers | Total*** |
| --- | --- | --- | --- | --- | --- | --- | --- | --- | --- | --- | --- |
| AZ | $1,250 | $650 | $275 | $1,600 | $400 | $150 | $1,100 | $250 | $400 | $600 | $6,675 |
| CA | $1,100 | $600 | $200 | $1,850 | $400 | $75 | $900 | $175 | $350 | $600 | $6,250 |
| FL | $1,200 | $500 | $250 | $1,200 | $375 | $125 | $1,000 | $225 | $400 | $600 | $5,875 |
| GA | $1,500 | $700 | $350 | $1,000 | $450 | $50 | $1,000 | $300 | $300 | $600 | $6,250 |
| ID | $1,250 | $900 | $400 | $1,850 | $200 | $100 | $900 | $200 | $475 | $600 | $6,875 |
| IL | $1,650 | $700 | $400 | $1,700 | $500 | $100 | $1,100 | $250 | $650 | $600 | $7,650 |
| ME | $1,900 | $800 | $400 | $2,100 | $500 | $150 | $1,300 | $325 | $600 | $600 | $8,675 |
| MN | $1,275 | $650 | $250 | $1,600 | $375 | $75 | $950 | $200 | $475 | $600 | $6,450 |
| NE | $1,300 | $700 | $300 | $1,300 | $350 | $100 | $900 | $250 | $525 | $600 | $6,325 |
| NC | $1,500 | $500 | $300 | $1,050 | $450 | $50 | $1,100 | $200 | $500 | $600 | $6,250 |
| OH | $1,400 | $700 | $250 | $2,000 | $425 | $125 | $1,200 | $200 | $550 | $600 | $7,450 |
| PA | $1,550 | $800 | $300 | $1,800 | $450 | $100 | $1,100 | $400 | $600 | $600 | $7,700 |
| TN | $1,900 | $600 | $325 | $1,100 | $350 | $75 | $900 | $175 | $400 | $600 | $6,425 |
| TX | $1,300 | $350 | $200 | $2,000 | $400 | $75 | $850 | $200 | $400 | $600 | $6,375 |
| WA | $1,100 | $600 | $200 | $2,000 | $350 | $75 | $975 | $250 | $500 | $600 | $6,650 |

*Refrigeration is per day
**Prep refers to Preparation or "Dressing, Casketing, Cosmetizing, etc."
***Excluding casket and urn costs

Help With Funeral Costs
Losing a loved one is one of the hardest experiences a person can go through. As if losing someone weren't difficult enough, grieving family members are often left with the burden of funeral expenses. These expenses require many on-the-spot decisions. The stress of making these decisions can often drive families apart when they need each other the most.
Thus, it's not uncommon for families to overspend by hundreds – even thousands – of dollars on funeral arrangements.
Some funeral homes can actually make matters worse by recommending unnecessary funeral expenses or services that drive up the average funeral cost beyond what a family can afford. Family members can feel pressured to give their loved one the best funeral possible and wind up overspending as a result. Having a trusted friend accompany you in advance can help you stay within your budget.
Remember, you don't have to do this alone! Organizations such as the Funeral Consumers Alliance and the National Funeral Directors Association are available to help at any point in the process.
To help protect you from overspending on funeral costs – or if you want to make sure your loved ones are not burdened with your funeral debt – write down your preferences ahead of time, starting with whether you prefer to be buried or cremated. It's also a good idea to list the type of service you prefer (a traditional viewing, a graveside service, or cremation), as well as the place of service (at a church, funeral home, or cemetery).
Although you might not be able to write down every detail of your final wishes, making these decisions ahead of time can give your family a guide to follow and help reduce confusion and emotional overspending when the time comes.
Other Types of Funerals
Funerals are just as unique as the individuals they celebrate. Depending on your culture, race, religious beliefs, or financial situation, one type of funeral may be more appealing than another.
Low Cost or Low Income Funerals
Many people struggle with the high cost of funerals and can't always afford what the funeral home will charge. A funeral home's least expensive option is usually a direct burial. Having a direct burial means the body is not embalmed and there is no visitation. Another option is direct cremation, which is essentially the same as a direct burial, except the body is cremated not buried. Both options are more affordable for families looking for a low cost funeral and usually cost several thousand dollars less.
Horse & Carriage Funeral
A horse drawn funeral isn't available everywhere, but can provide a unique alternative to a regular hearse and provide families with additional style and elegance. Providers usually offer black or white horses and decorations in the color of your choice. The cost of a horse and carriage is higher and is usually charged per hour.
Military Funeral
Military veterans are entitled to a free burial in a national cemetery and a grave marker if they meet certain requirements. Spouses and dependent children of veterans are also entitled to a plot and marker in a national cemetery. If the person who died was a veteran, either active or retired, the surviving family members are entitled to a range of benefits. Keep in mind there are different guidelines on who is eligible for which benefits.
Military funerals may cost families several thousand dollars less, but it's important to call your local VA office to get a full list of discounts and benefits. Funeral planning guides for veterans also exist.
Green Funeral
Eco-friendly funerals are on the rise and may save families hundreds – even thousands – of dollars on funeral costs depending on the style chosen. Biodegradable caskets are often much cheaper than traditional caskets. The Green Burial Council offers a list of vendors who have green burial-certified products that can be used for your final arrangements.
Top Questions to Ask Your Funeral Provider
Whether the need is immediate or you are planning for the future, one of the most important questions you can ask is whether a funeral home is independent or is owned by a corporation. A 2017 report from the Consumer Federation of America and the Funeral Consumers Alliance surveyed prices of 103 independent funeral homes in 10 major metropolitan areas, comparing them to prices at 35 funeral homes owned by Service Corporation International – SCI – in the same cities. The study found that median prices at funeral homes owned by SCI, which most often uses the name Dignity Memorial, were 47 to 72 percent higher than at the independent funeral homes.
"Many funeral providers offer various 'packages' of goods and services for different kinds of funerals," says the Federal Trade Commission. "When you arrange for a funeral, you have the right to buy goods and services separately. That is, you do not have to accept a package that may include items you do not want." The site also has a funeral costs and pricing checklist that helps you figure out the actual cost of a funeral. You can also learn about our funeral planning checklist.
Other important questions to ask include:
May I have a copy of your General Price List so I can see average funeral costs for your products and services?
If prices for such things as caskets and urns aren't on that list, may I have a list of those prices also?
Do I have options as far as embalming, viewing, cremation and type of funeral or memorial service? Does your price list cover/specify these services?
What are my payment options? Do you work with insurance companies?
The person who died had a burial insurance policy. Are you familiar with these?
Read our full list of questions to ask a funeral home.
Are Funeral Costs Tax Deductible?
If you're wondering, "Are funeral expenses tax deductible?" you're not alone, but unfortunately according to IRS regulations, most individuals will not qualify to claim a tax deduction for funeral expenses. It's possible an estate can deduct these and other types of funeral expenses, but check with your tax professional first.
What are the Cheapest Funeral Costs?
Typically preparation of the body (hairdressing, cosmetics, clothing, etc.) costs a few hundred dollars. Other cheap funeral costs include obituary notices and pamphlets for the service.
How Much Does a Baby or Child's Funeral Cost?
There is little difference in cost between an adult funeral and a child's funeral. Much of the same items must be purchased, and even though the casket is smaller it can still cost several thousand dollars.
Who is Legally Responsible for Funeral Costs?
If a will or estate plan exists, it is the executor's responsibility to ensure the funeral is planned and paid for. If an executor does not exist, any next of kin is usually responsible. If the person responsible for funeral costs cannot afford the final arrangements, they may sign a release that turns the deceased's body over to the coroner's office for disposal.
Does Social Security Pay for Funeral Costs?
Social Security doesn't explicitly pay for funeral costs, but eligible family members receive a lump sum payment of $255 when a loved one passes away. Additional benefits may be available.
Does Medicare Cover Funeral Costs?
Because a funeral is not considered a medical expense, Medicare does not cover funeral costs.
How Much Does Funeral Shipping Cost?
Shipping a body can increase funeral costs by $2,000 or more. People who retire out-of-state but still desire to be buried back home should plan to cover these additional costs. If a person dies overseas while on vacation or business, shipping costs will be even higher.
How Can I Raise Money to Cover a Funeral?
Unfortunately, many people can't afford to pay for an average funeral cost of several thousand dollars. In these situations, families often set up fundraising accounts like GoFundMe in honor of the deceased. Car washes, church offerings, and bake sales can all be used to raise additional funds.