How Much Does an Urn Cost?
The average cost of cremation today is $4,000 to $7,000, and the urn is often a huge part of this final expense. The container's size, style, and material are all important factors in its overall cost. Most people pay $70 to $2,250 for a full sized, permanent urn and $50 to $350 for green burial containers. If cremation is right for you, you can save money on the cost of an urn by buying one from a discount retailer rather than a funeral home or crematorium and using your burial or funeral insurance policy to cover the cost.
Different Sizes & Materials
Urns come in a variety of sizes and materials, which are both price factors. The most common materials used to make them include:
Biodegradable materials

Ceramic

Marble and stone

Metal

Wood
Urn sizes reference physical size as well as the amount of ashes they hold. Larger urns become more expensive based on their material. The most common urn sizes are:
Keepsake -

hold 1 - 35 cubic inches of ashes

Extra small -

hold 25 cubic inches of ashes or less

Small -

hold 26 - 50 cubic inches of ashes

Medium -

hold 51 - 130 cubic inches of ashes

Large -

hold 131 - 400 cubic inches of ashes

Companion -

hold over 400 cubic inches of ashes
Average Cost by Types of Urns
The type of urn you buy is a determining factor in the price you'll pay. Containers made of lavish materials, like marble, cost more than those made of cheaper materials, like recycled paper. Of course, larger vessels cost more than smaller ones. Note these prices only reflect the average cost of an urn, not any added features such as engraving.
Biodegradable
These eco-friendly urns are made of materials that don't cause harm to the environment. They decompose with the remains when buried in the ground or dissolve with them when placed in the water. They cost $65 to $350 and are made from earth-friendly materials like:
Clay
Compost
Cornstarch
Paper
Raw wood
Salt
Ceramic
These are painted or finished with gloss or texture to make them more attractive. They cost an average of $100 to $550.
Companion
These urns hold the remains of two different people, usually married couples. They're available as oversize containers that hold all of the cremains in a single vessel or as two side-by-side containers that share a base. Depending on the material, they cost anywhere between $200 and $1,250.
Glass
Glass containers are stained or painted so you can't see the ashes inside. They have a price between $150 and $500.
Marble and Stone
Urns made of marble and other types of stone are very popular for displaying ashes thanks to their durability and beautiful look. Prices run from $50 to $500.
Metal
The price depends on the type of metal as well as its purity, with alloys being cheaper than solid metal. These cost $50 to $300, and they're commonly made of:
Aluminum
Brass
Copper
Metal alloy
Steel
Scattering
These urns temporarily hold ashes before they're scattered, so they're much less expensive than urns that are displayed. They're made of lightweight ceramic, metal, paper, or wood so they can be easily transported to the scattering site. They cost between $50 and $150.
Eco-Friendly Scattering
Scattering urns are also available in biodegradable materials. They cost $50 to $150 on average.
Wood
Wooden urns are available in traditional vase shapes as well as box, pillar, hexagon, and octagon models. They may be plain, have a plaque, or be inlaid with metal or gemstones. They average between $50 and $400.

Specialty Urns
In addition to traditional urns, there are specialty models used to hold ashes for the long term. Their cost varies widely depending on the manufacturer, size, material, and decorative elements.
Artistic
Often custom made, these urns are fine art made of materials like glass, bronze, and ceramic. They often include ornate features like enamel, gemstones, or cloisonné. Because they're handmade and use high-end materials, they tend to be very expensive, with an average price tag between $200 and $2,250.
Clock
These decorative containers have a compartment that holds cremains behind a clock. They cost $150 to $450.
Cremation Jewelry
Cremation jewelry is a type of keepsake urn that discreetly holds some of the ashes of the deceased. Pieces made from sterling silver and stainless steel start around $25, while silver and gold can be as high as $1,000.
Infant
These hold the remains of an infant or small child, so they're usually smaller than standard urns. They cost an average of $50 to $1,000.
Keepsake
These hold only a small amount of ashes. They're usually used when the ashes are dispersed between multiple family members, but many people buy them so they can scatter most of the cremains and keep a small amount for themselves. They're designed to display, so they're made from decorative materials like glass, metal, wood, ceramic, and stone. They cost an average of $25 to $200.
Photo or Picture
These hold the ashes along with a photo of the deceased. Some are a picture frame with a chamber for ashes behind the photo sleeve, and others feature laser-imprinted images. Expect to pay $150 to $400 for one of these urns.
Religious Urns
These highlight a religious theme based on the beliefs of the departed. They may have bible quotes about losing a loved one, bereavement scriptures, and religious symbols. They're available in a variety of materials and cost between $150 and $800.
Theme
The design of these containers depict a hobby or interest of the deceased, such as a sport they loved or an instrument they played. Depending on how elaborate they are, they cost anywhere from $150 to $550.
Veteran and Military
These have a patriotic theme to honor Armed Forces members. They often feature the American flag, a bald eagle, or an Air Force, Army, Coast Guard, Marine Corps, or Navy emblem. They average $100 to $1,250.
the Funeral Rule, funeral homes must use any urn you provide, and they can't charge you a fee for this service.
FUNERAL ADVANTAGE PROGRAM SAVES FAMILIES MONEY
Walmart Urn Prices
With prices between $10 and $300, Walmart offers a variety of urns in several shapes and sizes, including:
Small and standard size
Cremation boxes
Keepsake
Cremation jewelry
Photos
Military, religious, and other themes
Costco Urn Prices
Costco sells a few metal and wood urns and cremation boxes. They cost $100 to $150.
Amazon Urn Prices
Like Walmart, Amazon sells urns and cremation boxes in a variety of sizes, shapes, and materials. Some sellers give the option of engraving a name or bereavement verse for no extra charge. Standard sizes run from $10 to $200.
Urns for Cremations
The type of cremation urn you buy depends on whether you want to disperse, keep, bury, or publicly display the ashes of the deceased. You can use any container to hold ashes that you plan on scattering, but the most common materials for these urns are natural wood, paper, and other plant fibers.
If you want to keep the cremains, it's best to buy a durable container that will not only protect them for the long term, but also serve as a beautiful display for them. These types of urns are usually made of bronze, aluminum, ceramic, glass, stone, or treated wood.
While any urn can be buried, wooden urns are the most common for burial. Biodegradable containers are used for green burials, but some people choose to bury the ashes without a vessel.
Metal, marble and stone, and ceramic are popular styles for columbariums.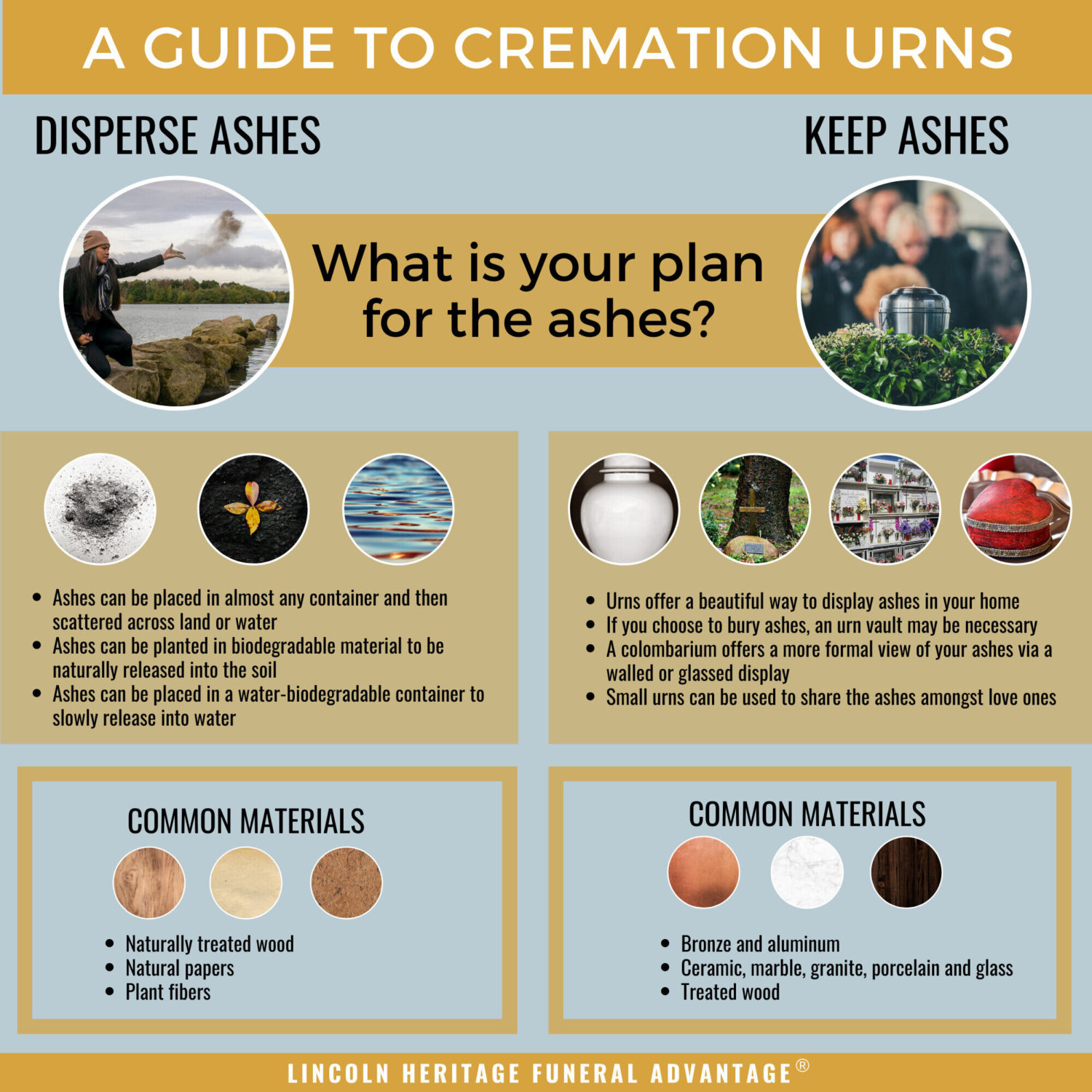 Cremation Boxes
Cremation boxes come in most of the same materials that vase-shaped urns come in, including wood, metal, and marble. Their pricing is similar to traditional urns, having an average cost of $50 to $500.
Memorial Urns
Memorial urns are any standard sized vessel used to display ashes in a loved one's home. They're also sometimes used at the funeral service or reception.
Urn Vaults
Cemeteries that have burial plots for urns, such as urn gardens, often require a grave liner called a vault. The price ranges from $100 to $400 and depends on the material used to make it. Concrete is the cheapest vault option, while you'll pay more for marble and bronze options.
Companion Urn Vaults
Because of their larger size, vaults used to bury companion urns cost a little more at an average price of $200 to $450.
Urn Gardens
Urn gardens are spaces in cemeteries made of burial plots for urns. These burial spaces are usually smaller than those used to bury caskets, so there is a higher density of cremains buried there than there is of caskets in the rest of the cemetery. These spaces usually cost between $350 and $500 in public cemeteries and $1,000 to $2,500 in private cemeteries. Green cemetery plots cost between $200 and $1,000.
Many couples wish to be buried together, even if they've been cremated. Cemeteries usually make these arrangements in advance. Keep in mind that if you want to bury a container with one that's already been placed in an urn garden, you may need to pay a fee for interment. Talk to a cemetery representative to find out about the burial of ashes in an existing grave cost.
Columbariums
Columbariums are structures in cemeteries with wall spaces, or niches, that display urns. They're similar to mausoleum crypts, but they're tombs for urns, not caskets. They cost an average of $350 to $2,500.
Budget Considerations
In addition to size and material, there are a few other important cost factors to think about when buying an urn, including:
If you will display or bury the urn - It's not practical to spend as much money on an urn you're going to bury as you would on one you'll display in your home or an urn garden.
Where you buy the urn - Buying from a private retailer or directly from a manufacturer usually costs less than buying from a funeral home or crematorium.
Engraving - Adding a loved one's name, an image, or a life well lived poem costs extra. Sellers charge per character or by the amount of space you use for your tribute.
Shipping costs - The price you'll pay for shipping varies based on the company you buy from, the delivery service they use, and the weight of the package.
Frequently Asked Questions
Can I buy an urn from a funeral home?
You can buy an urn at a funeral home, but it will probably be more expensive than if you bought one from a retailer like Walmart, Costco, or Amazon.
What size urn do I need?
In general, you need one cubic inch per one pound of body weight if you wish to keep all of the cremains. In general, larger urns are more expensive than smaller ones made of the same material.
Are cremation prices regulated?
The Funeral Rule from the Federal Trade Commission (FTC) doesn't regulate any funeral costs, including burial containers. However, funeral homes must give you a General Price List (GPL).
How much does a funeral cost with cremation?
Funerals where the body is cremated cost an average total of $6,000 to $8,000. The exact price depends on factors such as whether there is a viewing before the body is cremated and the cost of the urn used for the memorial service.
If the funeral includes a viewing, you'll pay embalming and other preparation services of about $1,000. Of course, you don't have to have a funeral or burial service. You can save a lot of money with direct cremation, which costs between $2,000 and $5,000, not including the cost of an urn.
Will a funeral home use the urn I bought from another vendor?
Because of the Funeral Rule, funeral homes must use any urn you provide, and they can't charge you a fee for this service.
FUNERAL ADVANTAGE PROGRAM SAVES FAMILIES MONEY